July 23, 2017.  
Our winter time fishery in Virginia continues to decline due to poor decisions by our fishery managers.  What do we have to fish for once the bay striped bass season closes on 31 December?  BSB is closed.  Our coastal striped bass don't come inside 3 miles anymore.  Tog is available but gets harder to catch as sea temperatures drop.  Puppy drum and speckled trout used to be a good fishery in the winter but these are harder to come by anymore. This time, they want to close blueline tilefish fish from 1 Nov to 1 May and reduce the limits for private boats to 3 per person.  We have one last shot at attempting to overturn this by submitting comments before this draft rule become law.  We are requesting as many angles as possible go to this website and submit comments not later than Thursday, July 28, 2017.  Just click on submit format comment. 
https://www.federalregister.gov/documents/2017/06/28/2017-13390/fisheries-of-the-northeastern-united-states-amendment-6-to-the-tilefish-fishery-management-plan
Suggested wording for you to comment (feel free to edit or write your own): I strongly urges the Director GARFO to send back this amendment to MAFMC for a complete rewrite. MAFMC staff did a great job in developing the draft amendment including the public in the process. Many anglers and organizations along the mid-Atlantic, participated in the year long process. But at the last council meeting to approve the amendment, MAFMC voted to ignore the input from the angling community and voted to close blueline half the year and significantly decrease limits (which really are the most important aspects in any amendment). At a minimum MAFMC should have sent the draft amendment for at least one more round of public comment. The angling public feels betrayed by MAFMC as there has been zero public input on these new proposed rules. Regional councils are required by law (Magnuson-Stevens Act) to include the public in the development of amendments. MAFMC grossly violated the law in the development by excluding the public in the most important aspect of this amendment. GARFO should not approve this amendment and should return the amendment to MAFMC without action.  The angling community had agreed to 7 blueline per person and a full / open season. I do not support sector separation with separate limits for private, charter, and inspected vessels because the angler is the same, the recreational angler who should always have the same right to the fish regardless of what boat they are fishing on that day. If there are to be closed seasons, the seasons should be aligned with BSB as blueline and BSB are often caught in the same location. Many released BSB or blueline will not survive.
Here is the VSSA letter sent to National Marine Fisheries Service (NMFS) on July 23, 2017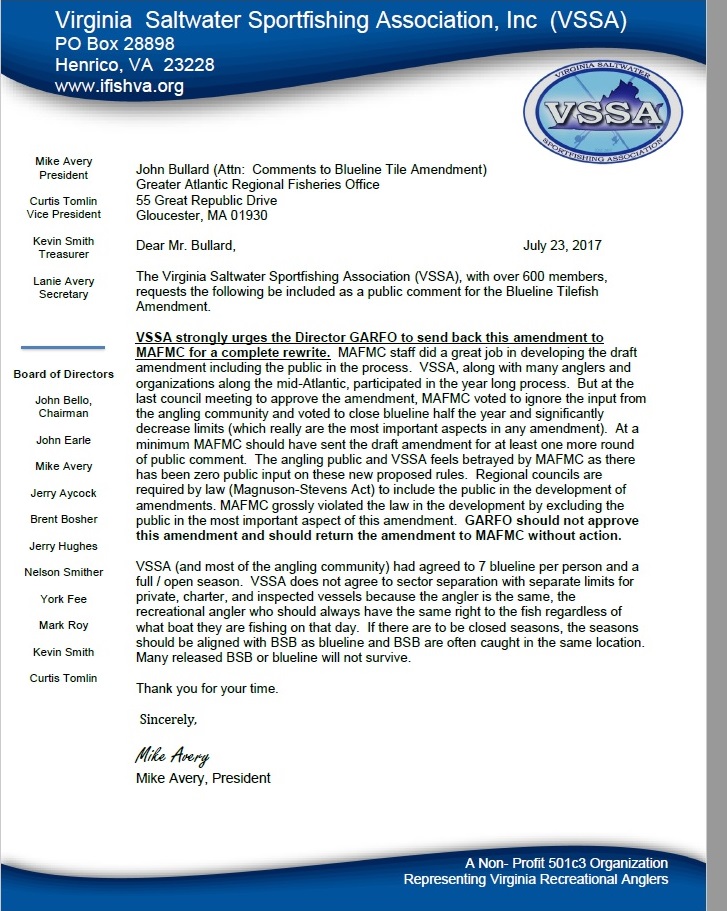 Loading ...
VSSA has been working with MAFMC for a year to ensure our fishing regulations for Virginia remain fair and balanced.  For years Virginia was the only state that had blueline regulations so our northern states, both recs and comms, caught as many as they wanted even in the waters off the Virginia coast.  In June 2015 MAFMC and NOAA issued an emergency rule to limit blueline recs to 7 per person.  Following the emergency rule, MAFMC began working on a Fishery Management Plan for blueline.  VSSA attended numerous public hearings and working group sessions.  During this year long process, MAFMC never once mentioned reduced limits by boat type nor closed seasons.  It was not until the very last meeting in NY these new ideas were even mentioned then got approved with zero public input or comment.   This process of public review was violated by MAFMC by waiting until the last meeting to finalize the decision to implement 7 tile per person for head boats, 5 tile per person for charters, and 3 tiles per person for private boats.  This is unpreceded to show such favoritism to certain boat types.  There should only be one recreational boat limit and it should not matter what type of boat you are fishing from. 
Additionally, MAFMC is recommending a closed season from 1 Nov – 30 Apr.  We all know that big BSB are often mixed in together with the bluelines. From Jan – May many targeting tiles have to release big BSB and we probably kill a lot of BSB that won't survive the trip back down at 300 feet. Now if they close tiles down Oct 31 but BSB is open from Oct to Dec. Those targeting BSB will probably catch a lot tiles and have to release them mostly dead. These continued misaligned seasons will result in a lot of dead, wasted fish.
Here is MAFMC announcement on bluelines.  http://www.mafmc.org/newsfeed/2016/federal-fishery-management-measures-approved-for-blueline-tilefish-in-the-mid-atlantic
Some supporting documentation from MAFMC on blueline.  http://www.mafmc.org/actions/blueline-tilefish
Here are the VSSA positions on bluelines. 
VSSA Blueline Tile Letter to MAFMC 30 Mar16