5 Nov 2017.  VSSA has partnered with the Chesapeake Bay Foundation to provide transportation to the ASMFC meeting.  See below for details.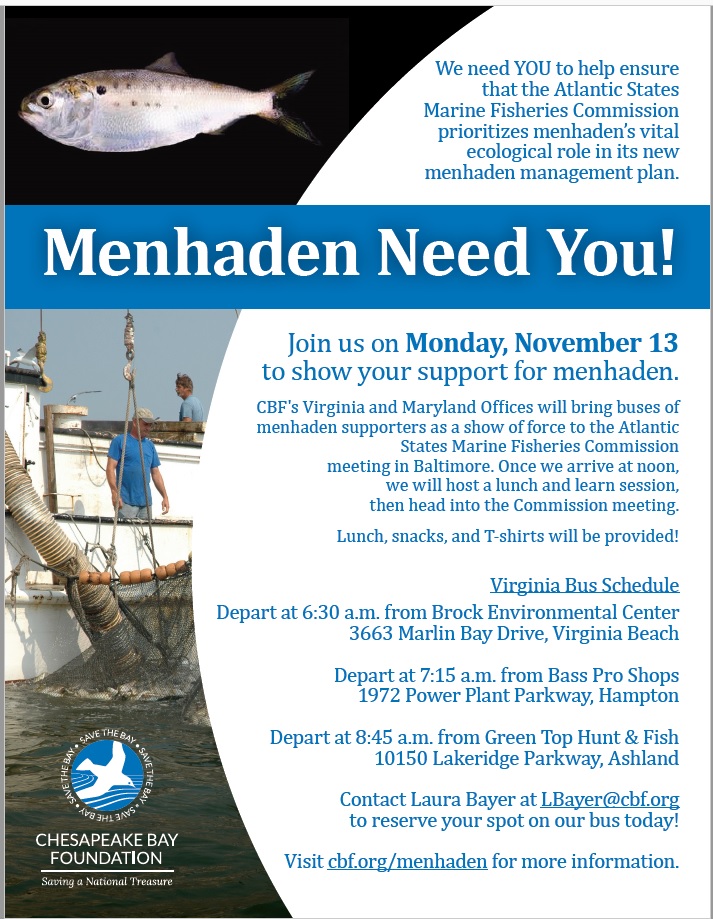 5 Nov 2017.  VSSA sent this letter to VMRC in hopes that our Virginia voting board members vote with the will of the people.  When you see any VMRC official this week or next, please encourage them to vote for Option E, Ecological Reference Points.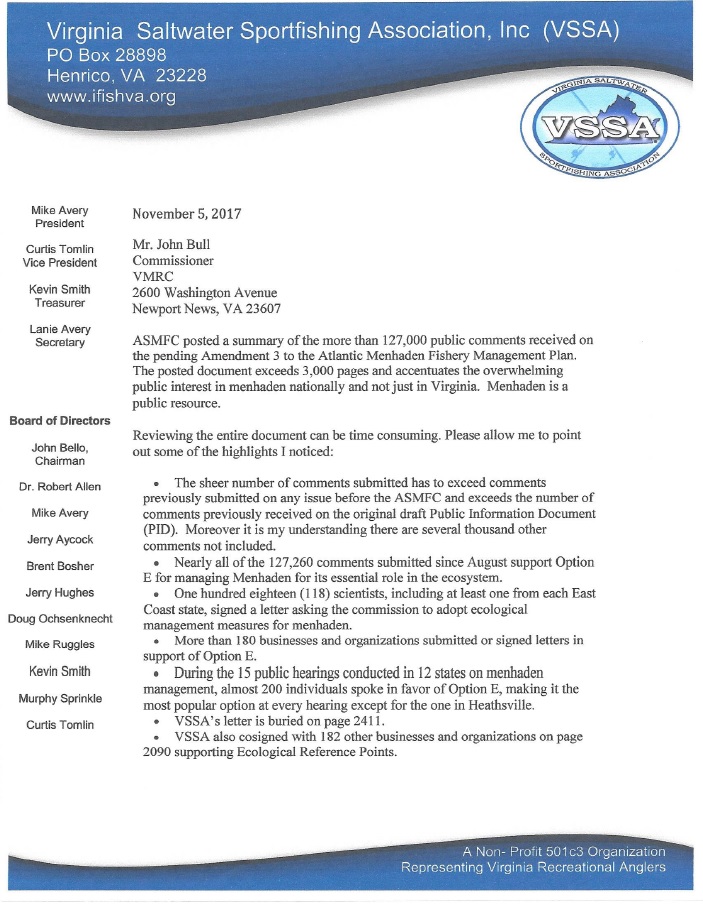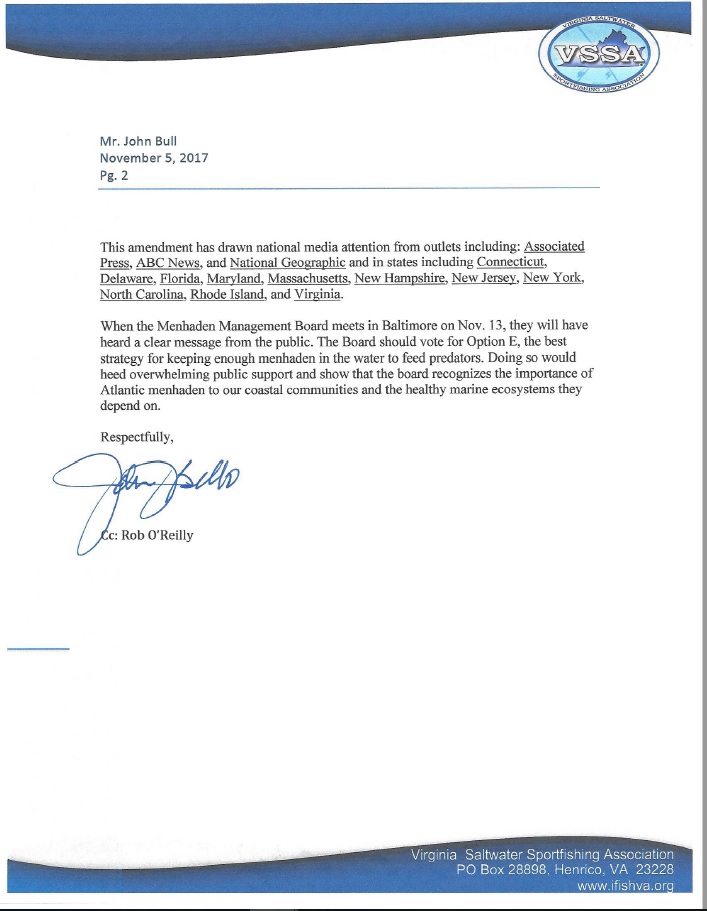 1 Oct 2017.  We need all anglers, individuals and organizations concerned about the health of the bay to send comments to ASMFC regarding menhaden now.  ASMFC is about to approve Amendment 3 which will change the way menhaden is managed. The future of "the most important fish in the sea" is at stake!  The Atlantic States Marine Fisheries Commission (ASMFC) is now accepting comments on proposed changes to its menhaden management plan changes that could determine whether this vital fish thrives or struggles in the future.
Menhaden a small, silvery, nutrient-rich fish is a vital link in the Chesapeake Bay's food web.  Often called the "most important fish in the sea," menhaden serve as an important food source for striped bass, birds, and marine mammals. But the Chesapeake Bay has not been seeing the number of young menhaden it did historically, raising concerns for scientists, anglers, and anyone who cares about the health of the Bay.
As ASMFC considers revisions to its fishery management plan, it is essential that menhaden's vital ecological role be a top priority.  Send a message to ASMFC right now before the October 24 deadline. Tell them you want a strong, ecosystem-based management plan for "the most important fish in the sea."
Now is the moment to implement ecological management for menhaden. We're advocating management to:
Ensure menhaden are managed for their important role as a forage fish in the ecosystem ensuring that enough fish are left in the water to support their many predators.

Guarantee unused quota in menhaden harvests are not carried over into the next year's harvest.

Ensure all the menhaden is included in the coast wide Total Allowable Catch (TAC). 

Reduce the current cap on reduction harvest in Chesapeake Bay to address ongoing concerns about low menhaden abundance.
Thank you VSSA members for sending emails to ASMFC regarding Amendment 3.  We had almost 200 emails sent.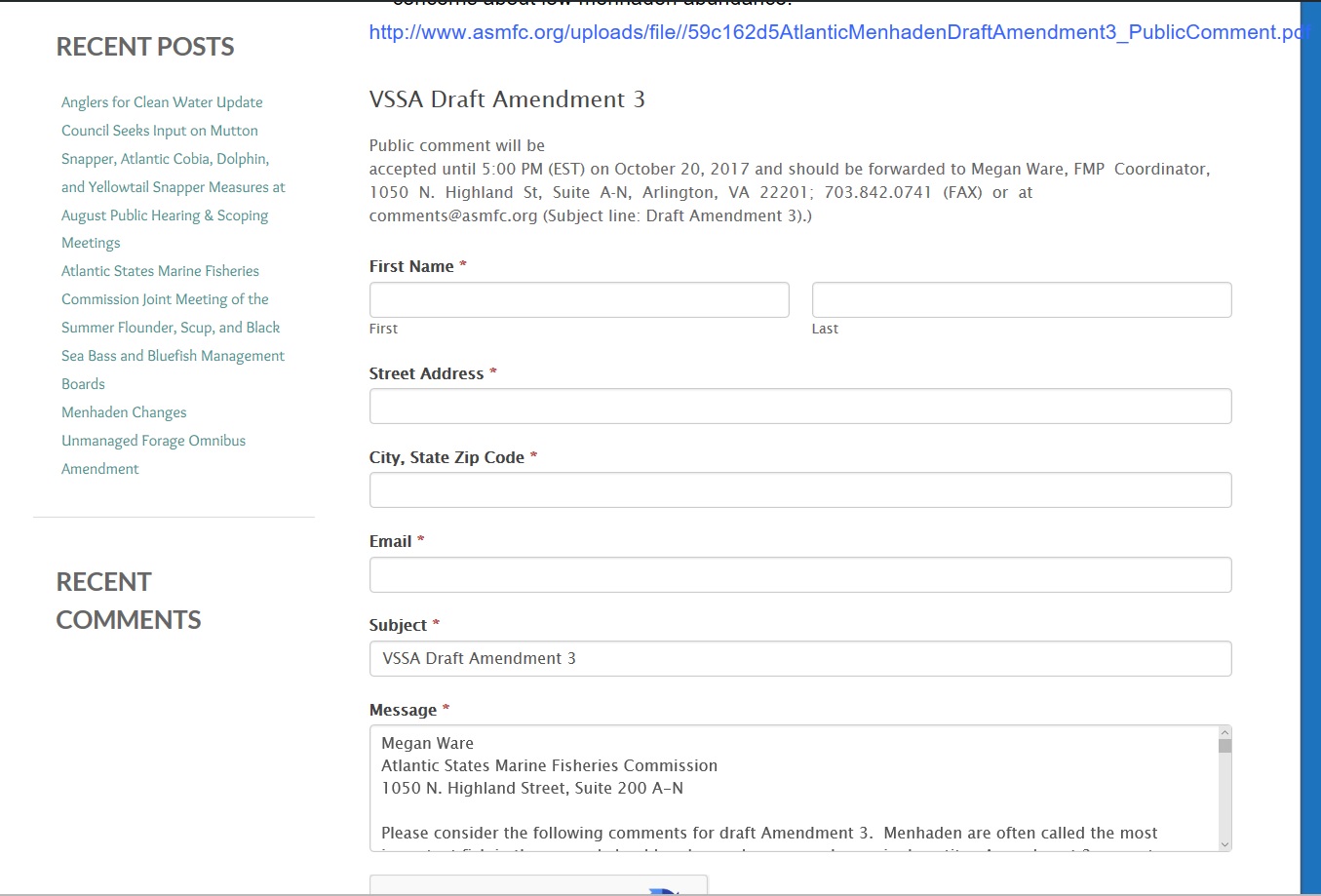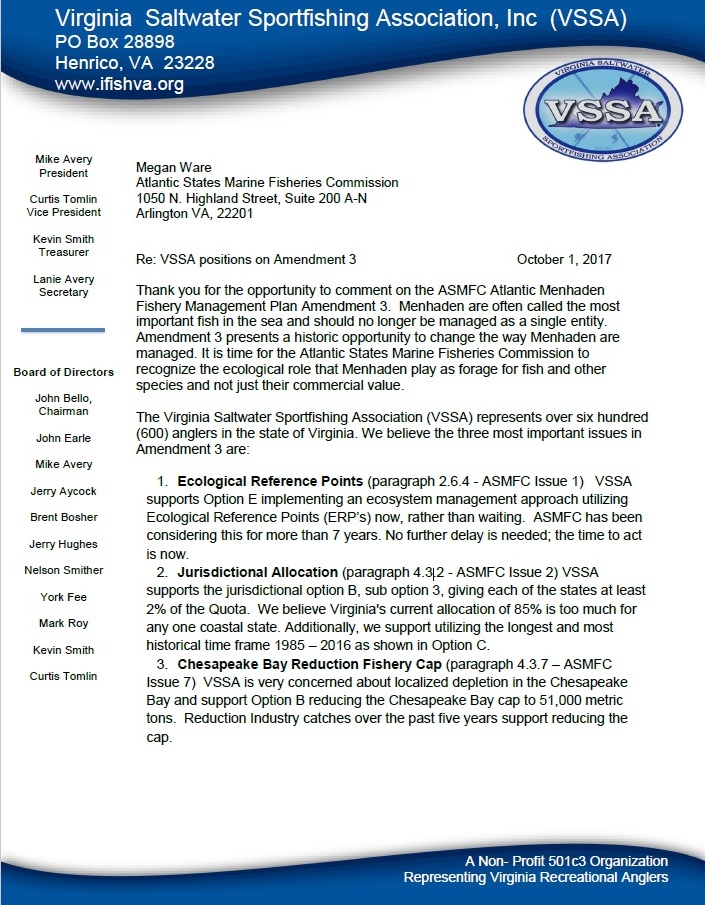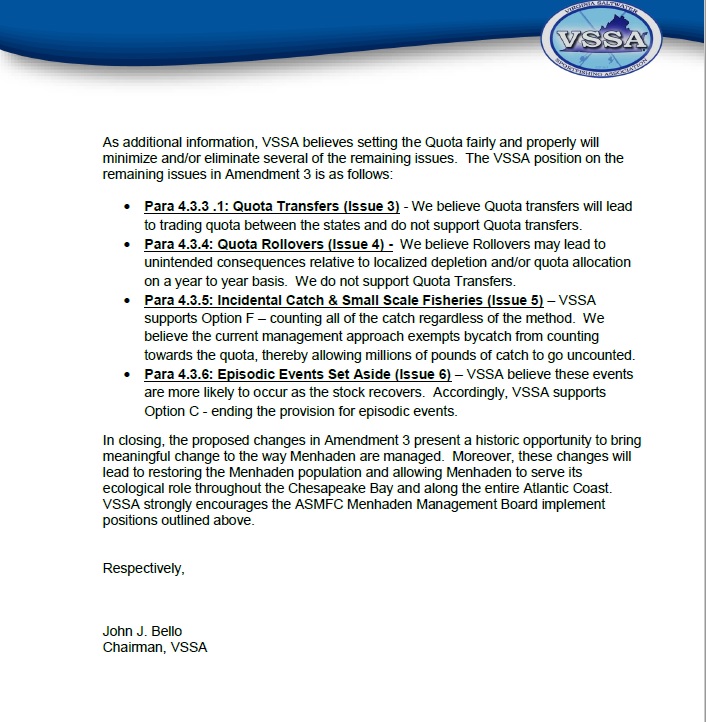 VSSA Amendment 3 Talking Points
September 17, 2017.  Suggested Talking Points on Amendment 3 for Atlantic Menhaden.  There is a series of public hearings on menhaden being held by the Atlantic States Marine Fisheries Commission (ASMFC). We need as many anglers and conservation minded individuals to show up at one of the Virginia public hearings and sound off. We believe ASMFC will do like last year and take input issue by issue so our recommended talking points are organized in that manner. We have done our best to figure out what will be in the best interest of the recreational angling community so we suggest using our talking points at the public hearings. Feel free to download and read the entire Amendment and formulate your own comments if desired.

http://asmfc.org/uploads/file/598dd1b9AtlanticMenhadenDraftAmendment3_PublicComment.pdf
Suggest you print these talking points and attend the meeting closest to your location. We have until October 20th, 2017 to get in our written comments so we will send that out later. The Public hearings are as follows:
Potomac River Fisheries Commission September 19, 2017; 6PM Carpenter Building 222 Taylor Street Colonial Beach, VA
Virginia Marine Resources Commission September 20, 2017; 6 PM Northumberland High School 201 Academic Lane Heathsville, VA
Virginia Marine Resources Commission September 21, 2017; 6PM 2600 Washington Avenue, 4th Floor Newport News, VA
We will keep you abreast of this amendment on this VSSA page. Suggest you bookmark this to keep abreast. Thanks for your continued support.
http://joinvssa.org/action-plan/menhaden/
January 17, 2017.  VSSA supports the following bills.  Please email the delegate expressing your support and if you can go to Richmond this week, attend any of the hearings on these bill and express your support.
VSSA Amendment 3 Talking Points
Menhaden Bill in Senate Committee
Senator John Cosgrove submitted a bill, SB820, to move the regulation of the Menhaden fish from the General Assembly to the professionals in the Virginia Marine Resource Center (VMRC).  This legislation has been pushed to be heard today, January 12th.
SB820 will be heard TODAY the Senate Committee on Agriculture, Conservation, and Natural Resources, which meets 30 minutes after adjournment of the floor session.  Legislators begin the floor session at noon, and adjourn when the daily business is complete, which can range from 30 min to 2 hours.  I know it is a short notice, but please do what you can to let the committee hear your voices:
Senate Committee on Agriculture, Conservation, and Natural Resources 1/2 hour upon adjournment Senate Room B
*Click HERE for the list of legislators on the committee 
Delegate Knight has submitted three bills that encompass the Menhaden issue.  HB1576 & HB1577 are the same pieces of legislation that we sponsored last year.  HB1576 will restrict Menhaden fishing by distance from the shoreline, and HB1577 is a companion bill to SB820 that will transfer the regulation from the General Assembly to the VMRC.   Click HERE to view the members of the Chesapeake Subcommittee that will vote on this legislation.
The NEW piece of legislation is HJ572, which asks an independent body to study the effects of transferring the regulation to the VMRC.  This study allows a different subcommittee, Studies, to take up the Menhaden issue.  If this legislation passes, it will take a year to review, and the results will be provided to the General Assembly prior to the 2018 Legislative Session.
Click HERE to view the members of the Rules Subcommittee on Studies. Click HERE to read the Virginia Pilot article by David Mayfield on my legislation, HJ572, for the study.
Virginia House of Delegates – Agriculture Chesapeake and Natural Resources – Chesapeake Subcommittee
| | |
| --- | --- |
| Chair: | Wilt, Tony O. |
| Meeting Date: | 01/19/2017 |
| Meeting Time: | 04:00 PM |
| Add to Outlook | Add to Google |
| Location: | 5th Floor East Conference Room |
| Contact: | |
| Barbara Teague, bteague@house.virginia.gov, 804-698-1543 | Scott Meacham, smeacham@dls.virginia.gov, 804-786-3591 ext. 209 David Barry, dbarry@dls.virginia.gov, 804-786-3591, ext. 224 |
On the agenda for this meeting are 7 Bill(s)/Resolution(s) in 1 block(s)
Click to view Full Agenda and see more information on this meeting.
January 10, 2017.  Thanks to all those who took the time to send their comments to ASMFC.  We had over 500 individual emails sent using the VSSA email form submitter.  Below is a copy of the letter sent (from over 500 anglers).  The next step is for ASMFC to develop the full Amendment and VSSA will monitor this action as draft become available.   Thank you for your continued support.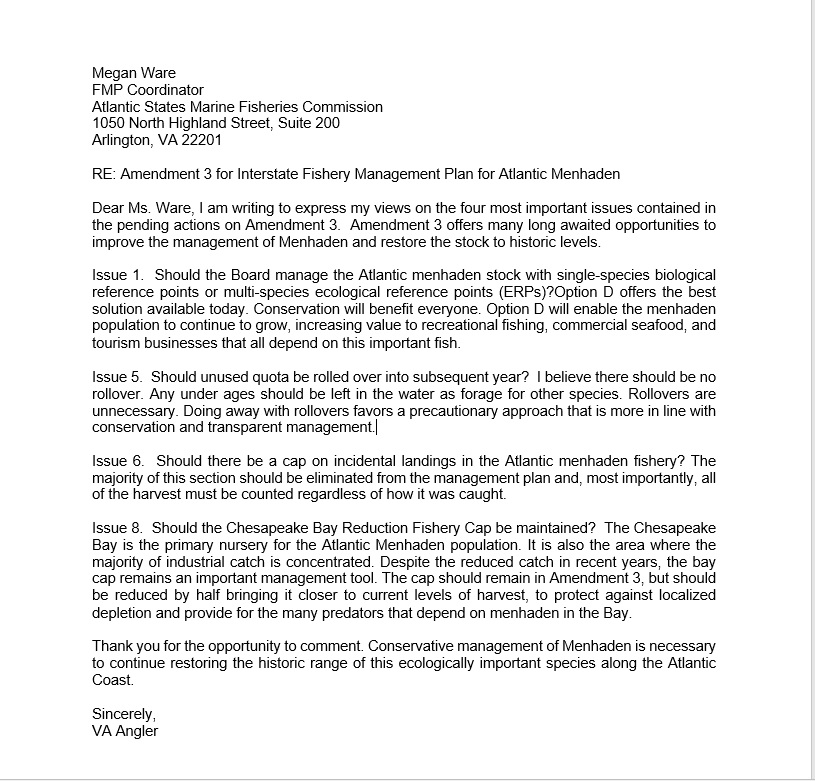 December 22, 2016. Call to Action.  We need all VSSA members and all anglers in Virginia to sound off on the Public Information Document (PID) for the management of menhaden through Amendment 3 being developed by the Atlantic States Marine Fisheries Commission.   Please use this form to send in your comments.  Feel free to personalize as you feel appropriate.  Don't forget to include your contact information and remember to put you name at the bottom of the text.  We need this to be done NLT than 5 pm, January 4th, 2017.  More information here. 
http://asmfc.org/uploads/file//5851c861AtlMenhadenAmend3PID_PublicComment.pdf
December 19, 2016.  Here is a copy of the VSSA letter sent to ASMFC regarding Amendment 3 PID.  VSSA written comments Amendment 3 PID 121916
December 3, 2016. 
Call to Action all anglers in Virginia.  We need your help to attend one of the public hearings to sound off about Menhaden.  We have a chance to help shape how menhaden is managed for future generations.  We need to get this right.  Menhaden—a small, silvery, nutrient-rich fish—is referred to as the "most important fish in the sea," and for good reason. It's a vital link in the Chesapeake Bay's food web, so any threat to menhaden would also threaten countless other Chesapeake critters.
VSSA will be at the public hearing on Dec 5 at  pm at the VMRC building but we need more anglers to attend to sound off to demonstrate our solidarity.
This month, you'll have a chance to stand up for this critical fish as it faces potential new threats along the Atlantic Coast. The Atlantic States Marine Fisheries Commission (ASMFC)—the group that manages and conserves nearshore fish species—is currently beginning revisions to its fishery management plan. The new plan will include important guidelines—called "ecological reference points" (ERPs)—that will help fishery managers determine menhaden catch levels along the Atlantic Coast to ensure enough of these vital fish remain in the water to serve as food for striped bass, birds, and marine mammals.
Currently, ASMFC sets catch quotas in a way that ignores menhaden's role in the food web. In fact, at its annual meeting, ASMFC voted to increase the menhaden quota for the Atlantic Coast by 6.5% without knowing the impact of that action on the food web.
ASMFC recently took the first step towards its amended plan by approving a document detailing different methods to manage menhaden based on their role as a critical food source.  The "Public Information Document" (PID) lays out a series of options for the public to consider.We need your help telling the ASMFC which options best protect the ecological role of menhaden in the Bay and along the coast. 
Click here to download our PDF with suggested talking points.  Print this document and take with you to the public hearing.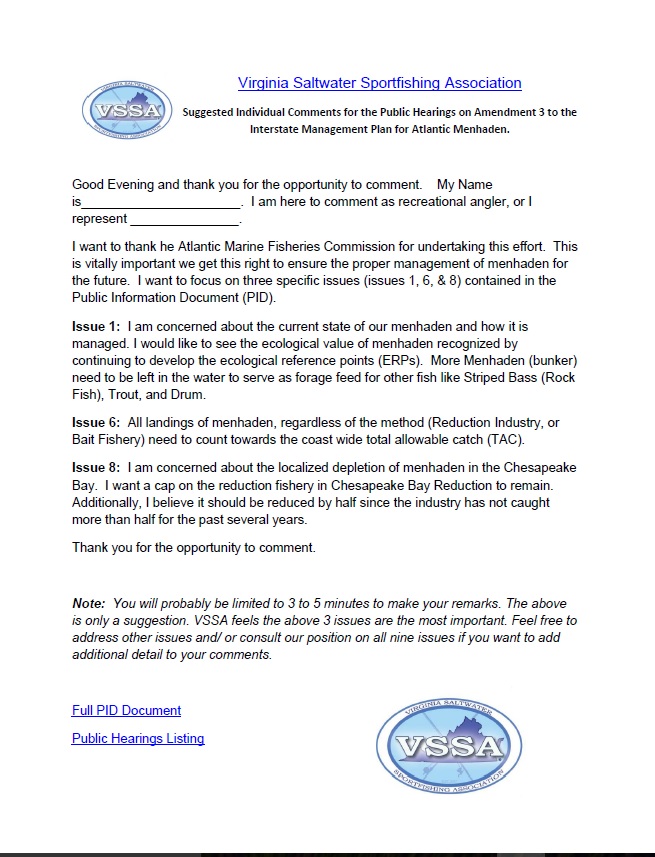 The Virginia Menhaden Alliance is hereby formed. The Virginia Menhaden Alliance is a body of individuals, businesses, conservation and angling minded organizations whose mission is to advocate for wise management of menhaden in Chesapeake Bay and coastal areas of Virginia. Alliance members include:
Chesapeake Bay Foundation
Virginia Saltwater Sportfishing Association
Tidewater Anglers Club…
Great Bridge Fisherman's Association
Virginia Beach Anglers Club
Portsmouth Anglers Club
CCA VA and CCA MD
Virginia Conservation Network
Senator Frank Wagner
Delegate Barry Knight
Wild Oceans
Chesapeake Bay Defenders
October 26, 2016. The Virginia Menhaden Alliance worked hard with alliance members to convince the ASMFC Menhaden Board to keep our quota at the current level with no increases.  Our efforts failed.  Even our own state, Virginia, voted for the increase and were advocating for even more increases to 10%.  The ASFMC board met on Wednesday, October 26, 2016 and voted to increase the catch by 6.45%. 
http://asmfc.org/uploads/file/58113785pr32AtlMenhaden2017TAC.pdf
http://pilotonline.com/news/local/environment/fisheries-panel-after-failed-last-try-agrees-on-increase-in/article_148958ed-8154-59ac-8984-f3204730e314.html
October 19, 2016.  The Virginia Menhaden Alliance has created a facebook page as a tool to keep all abreast of alliance activities that are of general interest to the public.  Please like and share this page to help spread the word. 
https://www.facebook.com/VirginiaMenhadenAlliance/
September 21, 2016.  We held our second meeting on September 21 and continued our dialog on how to tackle the menhaden issue for Virginia.  Our plans are coming together on two main fronts (1) at the federal level with NOAA/NMFS and the ASMFC and (2) at the state level focusing on what we can do for 2016/2017 legislative cycle in our state government.  Many angling clubs and conservation organizations have signed on to become what will from this day forward be known as the Virginia Menhaden Alliance.  We will soon involve the angling public and public in general so you can join our fight to conserve menhaden in the Chesapeake Bay and Virginia waters.  If you believe your organization can assist or may want to be part of this alliance, please contact VSSA soonest. 
August 17, 2016.  We had a great first meeting tonight with good participation including Senator Frank Wagner and Del Barry Knight's aide and many organizations concerned about menhaden. We talked about everything from new bills for the GA, changing VA reps to the ASMFC menhaden board, ASMFC amendment 3 and Oct meeting, protecting bay menhaden by reducing bay quota or simply not allowing bay fishing until Sept to give them time to mature, networking with other states, energizing the public, highlighting violations, get press and TV involved more. More to follow as we get organized.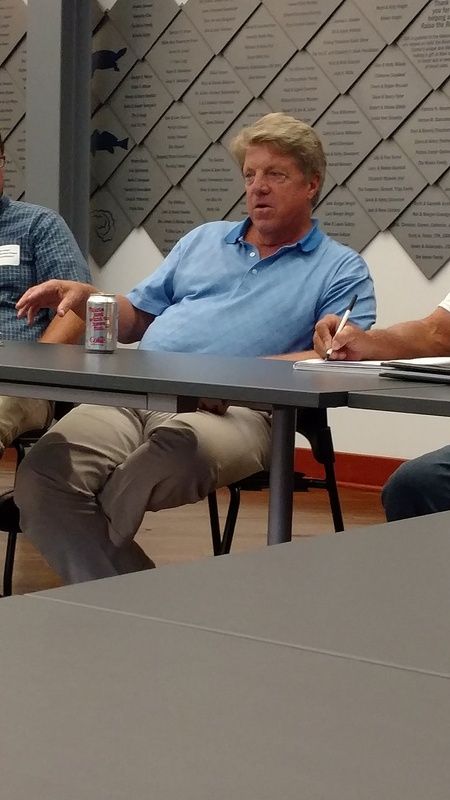 Senator Frank Wagner making some excellent points.
Dustin Rinehart (Del Barry Knight Aid) updating the group on what Barry Knight's plans are for menhaden.
Leaders from numerous organizations in Virginia concerned about menhaden.
VSSA and CBF are forming a menhaden coalition of fishing clubs and organizations to join forces to try to figure out the best approach to reduce localized depletion of our menhaden.  The meeting on Menhaden working group session is on Wednesday August 17, 2016 at the CBF Brock Environmental Center, 3663 Marlin Bay Ct, Virginia Beach, VA 23455 from 6 pm to 9 pm.  So far we have invited:
Bull Island Anglers Club

Central Virginia Sportfishing Association

Chincoteague Island Charterboat Association

Eastern Shore of Virginia Anglers Club

Eastern Shore of Virginia Marlin Club

Great Bridge Fisherman's Association

Norfolk Angler's Club

Northern Neck Anglers Club

Peninsula Saltwater Sportfishing Association

Portsmouth Anglers Club

Tidewater Anglers Club

Tidewater Kayak Angler's Association

Virginia Beach Angler's Club

Virginia Charterboat Association

Virginia Coastal Fly Angler's Club

Coastal Conservation Association of Virginia

Maryland Saltwater Sportfishing Association

Recreational Fishing Alliance

Chesapeake Bay Defenders
We are not asking individual anglers to attend at this time, just a representative from organizations.  We do want your thoughts, ideas, and recommendations on what we should be doing as a coalition to reduce overfishing of menhaden.  You can send your thoughts and ideas to ifishva@gmail.com. 
VSSA remains cash poor and if you are able to donate to help this cause, please click here to donate. We are an approved 501-C3 Non-Profit so your donations are tax deductible and very much appreciated.  If you so designate, your contribution will be used solely to the menhaden issue. 
Bookmark this page to stay abreast of what we are doing for menhaden.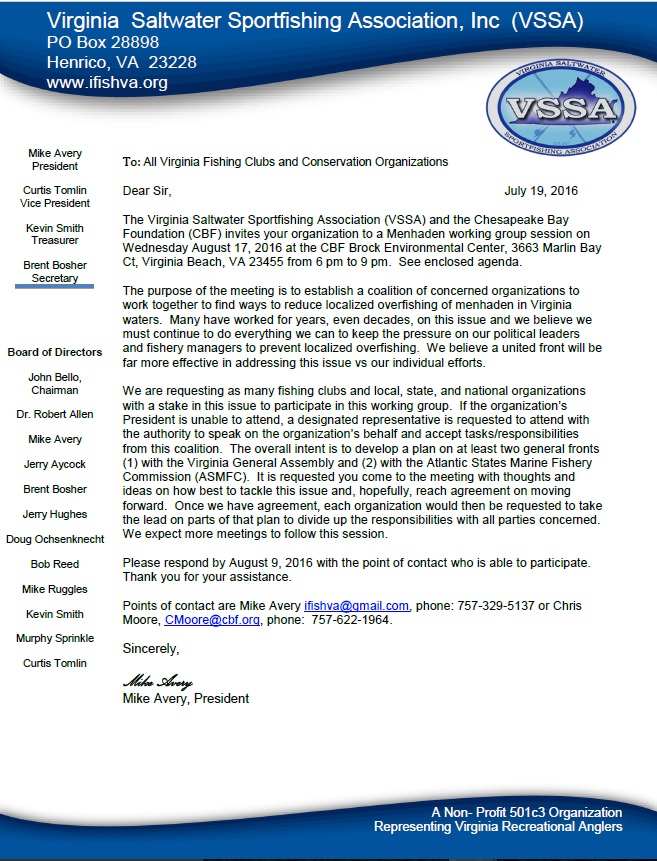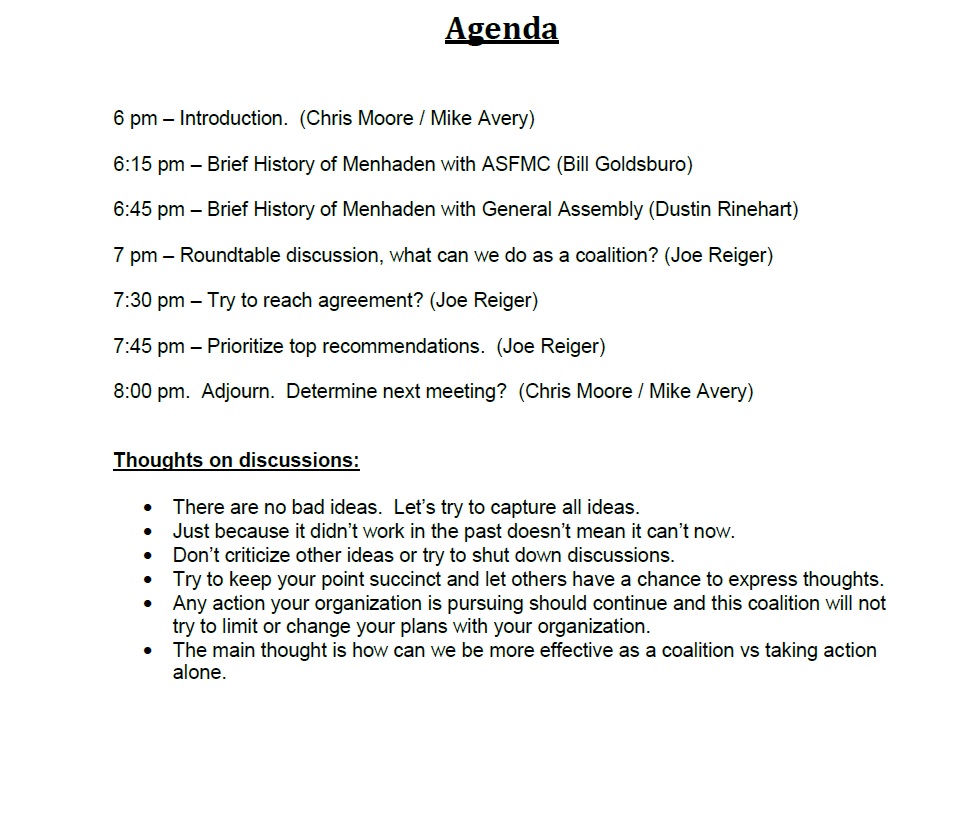 VSSA Goal:  Significantly reduce or eliminate industrial scale allocation. Support legislation to move management to VMRC. Address both at federal and state levels with emphasis on federal.

Loading ...
Here are the VSSA documents on menhaden sent to date.
VSSA SB 219 Letter to Commmitee